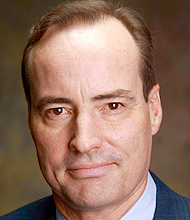 Very Few people know the truth behind what's happening in the U.S. economy today.  One of the few is US economics expert Harry Dent who has gained international attention over the past 25 years through his ability to predict trends, not by luck, but by connection economics to demographics. Commerce is a logical result of people making predictable spending decisions as they move through life.  Since his first bestselling book in 1989, Harry has called it right all the way.
The Dent Method
The Dent Method is a long term economic forecasting technique based on the study of and changes in demographic trends and their impact on our economy. As the only documented record of success at forecasting long term economic trends, The Dent Method works by showing how predictable consumer spending patterns combined with demographic trends allow us to forecast the economy years or even decades in advance.
Used by Financial Advisors and individual investors through HS Dent's Monthly Economic Forecast, Economic Special Reports, Demographics School and The Financial Advisors Network, this method helps predict with uncanny accuracy the health of the economy as well as the stock markets by identifying long-term trends that help build an overall financial picture and achieve key financial objectives.
How Does The Dent Method Economic Forecast Technique Work?
Pioneered in the late 1980's by economic expert and HS Dent Founder Harry S. Dent, Jr., The Dent Method is a common sense approach. It says that economics is tied to demographics. And commerce is a logical result of people making predictable spending decisions as they move through life.
Predictable spending patterns at different ages and stages of life
Who spends what in the economy and its impact
Birth index and immigration
The Spending Wave
Inflation Indicator
Harry S. Dent, Jr., Founder and CEO
Using exciting new research developed from years of hands-on business experience, Harry S. Dent, Jr. offers a refreshingly positive and understandable view of the economic future. As a best-selling author on economics, Mr. Dent is the developer of The Dent Method – an economic forecasting approach based on changes in demographic trends.
In all of his past books since 1989, Dent saw an end to the Baby Boom spending cycle around the end of this decade.
In his new book, The Great Depression Ahead, (Free Press, 2009), Harry Dent outlines how this next great downturn is likely to unfold in three stages, with an interim boom stage between 2012 and 2017 before the long-term slowdown finally turns into the next global boom in the early 2020s. In his book The Great Boom Ahead, published in 1992, Mr. Dent stood virtually alone in accurately forecasting the unanticipated "Boom" of the 1990s. Today he continues to educate audiences about his predictions for the next and possibly last great bull market, from late 2005 into early to mid 2010. Since 1992 he has authored two consecutive best sellers The Roaring 2000s and The Roaring 2000s Investor (Simon and Schuster). In his latest book, The Next Great Bubble Boom, he offers a comprehensive forecast for the next two decades and explains how fundamental trends suggest strong growth ahead, followed by a longer-term economic contraction. Mr. Dent also publishes the HS Dent Forecast newsletter, which offers current analysis of economic, and financial market trends.
Mr. Dent received his MBA from Harvard Business School, where he was a Baker Scholar and was elected to the Century Club for leadership excellence. Since 1988 he has been speaking to executives, financial advisors and investors around the world. He has appeared on "Good Morning America", PBS, CNBC, CNN/FN, and has been featured in Barron's, Investor's Business Daily, Entrepreneur, Fortune, Success, US News and World Report, Business Week, The Wall Street Journal, American Demographics and Omni.
While at Bain & Company he worked as a consultant with several Fortune 100 companies. He has also been CEO of several entrepreneurial growth companies and an investor in new ventures. A frequent speaker on economic trends, Mr. Dent educates clients and partners on The Dent Method and provides strategic vision for asset allocation and investment selection.