Tweet
The ULTIMATE Goal Setting Success Workshop
Discover How to Set, Plan and Achieve Your Goals in 2013...and for the Rest of Your Life!
1 Day Intensive Workshop
Hi there,
Most people set New Year's resolutions and Goals? Yet, what's remarkable is that come late February, March most New Year's resolutions are gone by the wayside. In fact, according to one study by the University of Bristol showed that 78% of New Year resolutions fail.
Why is this? Well, when it comes to goal setting it's a horrible reality that most people have never learnt or practised the art and science of goal setting. They know how to beat themselves up and force-feed goals that they don't REALLY want to achieve and they waste their life chasing goals that aren't even THEIRS in the first place (dooh!) nor in line with their own values and life purpose.
In addition, most people simply haven't mastered the discipline of working through their life goals with the aid of a comprehensive, easy-to-follow proven, step-by-step system. As a result, most people unfortunately end up living failed lives, feeling deeply unfulfilled and disappointed with themselves on many levels.
At Horizon, we seriously want to put a stop to this and provide individuals (and organizations) with every opportunity to develop to their fullest potential and lead truly fulfilled and extraordinary lives (both personal and business) on all levels. With this in mind the co-owners of Horizon (Keelan Cunningham & Ian Lawlor) have designed THE ULTIMATE Goal Setting Success Workshop.
Many of you will know us as having hosted (and attended) many of the worlds-best seminars on business, personal growth, finance etc. However, despite this fact, as business owners and people who are fanatical about goal setting we were still frustrated from not having come upon a system of goal setting that actually works....UNTIL NOW!
"The ULTIMATE Goal Setting Success Workshop" is the culmination of 20+ years of study, lifestyle design and practical implementation of goal programming. What you'll get access to is a unique combination of insights, tools, worksheets and life planning models that have helped countless others to date design their own a successful, personalized life roadmap.
Watch this video interview with Keelan Cunningham to find out why most New Year's resolutions fail...
Online Booking Now Closed
What You Will Discover on the Day:
Why most New Year's Resolutions don't work & what to do about it!
Why 3% of Harvard MBAs Make 10 Times More than the other 97% combined
How to Circle the Wheel of Life to bridge the gap from where you are and where you want to be
How Gratitude can Transform your Life and even predict the future
The Life Success System That Can't Fail...
Why your progress depends on you Being Unreasonable
How to use the Be-Do-Have Success Formula when setting your goals
How to turn your Dreams into Reality...all of the time
How to Produce, Direct and Star in the movie that is your life
The Power of Autosuggestion & Affirmations
How to Reframe your Goals to ensure you are focused on what you want and not what you don't want
How to discover your Life Purpose...
How to write a Personal Mission Statement
How to write a Personal Development Plan
How to use the Time Management Matrix & The Rocks in the Jar methodology
How to write and Design a 1 Year Power Plan
How to Create a 30 Day Power Plan
How to use Time Blocking to increase your productivity
When and How to Delegate
Leverage - How to Create Success using Other Peoples Resources
Ways of accessing Other Peoples Resources.
The truth about False Productivity
How to Write a Stopping List!
The Gun-To-The-Head & Heart Attack Reality Check
The Key to Success in Just About Anything
New Beginnings: How to Start Over Again
The Zero-Based Thinking Technique
The 10 Minute Business Plan
Whether Staring a Business is Right for You!
25 Great Questions to Ask Yourself
How to Avoid Being Dead at 40, Buried at 70!
Your Legacy!

This Event is for You Because...
You want an easy-to-follow system for goal setting that you can use for the rest of your life
You want to document your life goals and create a clear plan of action for the forthcoming year and beyond.
You want more clarity on your potential life purpose
You want to understand how the conscious and unconscious minds work together.
You want to finally challenge yourself to think-through and design the rest of your life.
You want to be in a room with and get to know other high-achievers.
What People Say...
A Must-go-to Event on Goal Setting & Achieving
Date: Saturday, 2nd Feb 2013
Location: The Clyde Court Hotel
Times: 09:30AM - 4.00PM
Early Bird Rate - 1 Ticket: €97
(Regular Price €147pp)
2 Tickets Special OFFER: €147

Online Booking Now Closed
---------------
Venue Location:
The Clyde Court Hotel
Lansdowne Road, Ballsbridge, Dublin 4

View Larger Map
About Keelan Cunningham
Keelan Cunningham is an entrepreneur, multiple business owner, author, and personal finance/wealth building specialist.
Keelan's passion is helping people improve their business acumen and personal situation, so they can lead a truly wealthy life in all aspects and with any luck similarly transform the lives of others. Keelan is the former Managing Director of Red Sky, one of Irelands leading web development companies for over 10 years now. Keelan has recently been appointed as the CEO of Horizon Speakers because of his proven ability to develop fledgling businesses into leading and sustainable business.
Given his entrepreneurial bent Keelan found himself wanting to contribute more, to challenge more and hence sought out new insights, opportunities and adventures. Over the last 3-4 years his thirst for knowledge, insights and adventure resulted in him travelled the globe (including South Africa, India and the United States) to be trained and mentored by some of the best Business, Marketing and Personal Development Experts in the World.
He believes that life-long learning and development through events, training seminars and information products by the worlds-best international experts and speakers is the surest, fastest and most enjoyable way of developing skills, realizing potential, building human capital, building wealth, and enhancing the quality of lives and levels of fulfilment in people. This drive and passion led him to becoming the co-owner and CEO of Horizon Speakers.
About Ian Lawlor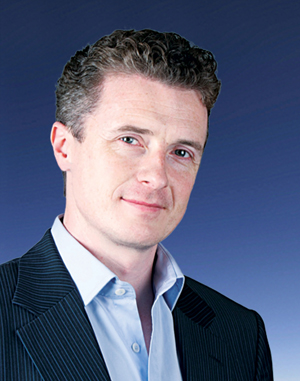 With a background in engineering for Irish and multinational companies, Ian Lawlor ended his role with Intel Corp in 2003 to focus full time on investment interests which include a personal portfolio and managing an investment fund.

Ian's interest in financial education and training resulted in co-founding a public shared learning forum for successful and aspiring investors in 2001 which still continues. This role also led to developing a profile in the national media resulting in being a presenter on Ireland's main TV station RTE 1.

In 2007, Ian co-founded Horizon Speakers & Seminars to promote a great life through continual education and personal development to business owners and professionals. To date Horizon has hosted numerous International speakers and bestselling authors in Ireland, UK and USA.
Did You Know That...
Roughly 45-50% of the World's Population set New Year's Resolutions.
However, 78% of people fail at achieving their goals according to a Bristol University study.
People who will attend our Goal Setting Success Workshop will put themselves in the top 22% of the world's population who achieve their life goals.
Our 100% Satisfaction Guarantee

"We Guarantee 100% Satisfaction on the Day of the Event. If you for some reason are not entirely satisfied with the event on the day then all you have to do is notify a Horizon Speakers representative and we will either refund your money or credit the ticket price towards an upcoming event of ours."
Note: You MUST notify us on the day!
Any queries. Contact Us: info@horizonspeakers.com
Tel: 01 676 1952