Tweet
The COMPLETE Wealth Creation Workout
Get Financially Fit with this Step-By-Step Financial Workout. Discover How to Manage Your Money Better & Build Wealth That Lasts!
1 Day Intensive Workshop
Most people dream of becoming financially independent or financially free....someday. However, unfortunately, the vast majority of people never even get close to this reality and conversely are destined to always struggle with money worries and experience financial strain for the remainder of their lives. Why is this?
Well, when it comes to wealth creation and financial planning it's a horrible reality that most people simply haven't learnt the basics of wealth building and financial planning.
The Answer in Two Steps
So, who does have the answer? Well, I believe that you hold the answer. The 1st step is for you to recognise the fact that you CANNOT hand over the management of your money and responsibility for securing your financially future to ANYBODY else. In addition, you MUST also recognise the need for and have a heartfelt desire for taking control of your finances.
The 2nd step is for you to make a commitment to securing your financial future once and for all and developing your financial acumen and intelligence to the utmost level. And you need to do so with the assistance of a qualified, trusted and experienced source to provide the right guidance on how to secure your financial future and build lasting wealth.
It is Unfortunate But...
Most people will never build enough wealth or create sufficient income to adequately provide for themselves and their family. To make matters worse, even fewer people (3%) can provide for a comfortable (never mind wealthy!) retirement. Personally, I think this is shocking and deeply regrettable! To have lived a life of daily grind, to struggle to get by, with little or nothing to show for all that effort in the end.
At Horizon, we seriously want to put a stop to this and provide individuals with every opportunity to develop to their fullest potential and lead truly fulfilled and extraordinary lives on all levels. Becoming a master of your own money, financial planning and wealth building is a vital part of and enabler of living a successful, fulfilled life.  With this in mind the co-owners of Horizon (Keelan Cunningham & Ian Lawlor) have designed "The COMPLETE Wealth Creation Workout" Workshop.
Many of you will know us as having hosted (and attended) many of the worlds-best seminars on business, personal growth, finance etc. However, despite this fact, as business owners, investors and wealth creation enthusiasts we were still frustrated from not having come upon a comprehensive education platform re: financial planning, wealth building and money management....so we designed our own.
"The COMPLETE Wealth Creation Workout" Workshop is the culmination of 10+ years of investing, studying, analysing and implementing practical wealth creation strategies. What you'll get access to is a unique combination of insights, strategies, financial worksheets and wealth planning models that have helped countless others to date design their own a successful, personalized roadmap to financial freedom
Did You Know That...
90% of people will be broke within 3 months of losing their job!
Only 3% of people ever retire Financially Independent at age 65
98% of people who are poor have never received proper financial advice or training throughout their lives

BOOK NOW:
1 Ticket Special Offer = €147
(Regular Price €197)
2 Tickets Special Offer = €227
(Regular Price €297)
Here's What You Will Discover on the Day:
Why Most People Fail to Build Lasting Wealth & Why it's Better to Be Wealthy Than Rich!
The Steps You Can Take to Secure Your 5 Main Personal Financial Needs
The Million Dollar Habit of Saving & the Fast Accelerated Savings Technique
Why Compound Interest Truly is the 8th Wonder of the World
How Household Budgeting Can Make You Rich & How to Actually Achieve Financial Independence
The 4 Destinations You Must Reach on the Road to Financial Freedom
The True Cost of Financial Security, Protection, Independence & Freedom
Debt: The Good, The Bad and The Ugly
Your Debt Reduction Plan: Snowball vs. Avalanche
Retirement Planning & The 4 Pillars of Retirement Provision
The 4 Different Types of Income & How To Make Them
The 10 Wealth Creation Reasons for Owning Your Own Business
The 3 Main Asset Classes, How and When to Invest in Them
Asset Allocation Principles & How to Apportion Your Capital
How to Get Out of the Rat Race using the Cashflow Quadrant
How to Use Other People's Resources to Create Incredible Wealth
How to Become a 'Sophisticated' Investor
Why you need to Become your Own Financial Advisor

This Event is for You Because...
You want to document your current financial status and create a clear financial plan of action that will take you to your financial goals
You want more clarity on what you actually need to do to achieve financial independence
You simply want to learn how to put an end to your money worries and provide a secure financial future for you and your family
You need to build your financial acumen and have an easy-to-follow system for building wealth that you can refer to for the rest of your life
You want to finally challenge yourself to think-through and design your financial future
You want to be in a room with and get to know other high-achievers
The COMPLETE Wealth Creation Workout
Get Financially Fit with this Step-By-Step Financial Workout. Discover How to Manage Your Money Better & Build Wealth That Lasts!
Date: Saturday, 14th April 2012
Venue: D4 Berkeley Court Hotel
Times: 09.30AM - 4.30PM
BOOK NOW:
1 Ticket Special Offer = €147
(Regular Price €197)
2 Tickets Special Offer = €227
(Regular Price €297)

P.S. SPECIAL BONUS OFFER: Limited only to the first 20 booked
Be amongst the first 20 people to book and get your FREE 1st 3 Chapters of the "The 7 Secrets to Wealth Creation" book.
I've just finished watching Richard Bandler here on stage at a Horizon event.
Absolutely brilliant speaker, brilliant seminar!
Anything by Horizon, get to it right now...
~ Keith Barry
(Renowned Irish Mentalist, Hypnotist and Magician )
Any queries. Contact Us: info@horizonspeakers.com
Tel: 01 676 1952 | Mob: 086 1221359
A Must-Do Financial Workout with Keelan Cunningham
Date: Saturday, 14th Apr 2012
Location: D4 Berkeley Court Hotel
Times: 09:30AM - 4.30PM
1 Ticket Special Offer: €147
Regular PRice: €197
2 Tickets Special OFFER: €227

About Keelan Cunningham
Keelan Cunningham is an entrepreneur, multiple business owner, author, and personal finance/wealth building specialist.
Keelan's passion is helping people improve their business acumen and personal situation, so they can lead a truly wealthy life in all aspects and with any luck similarly transform the lives of others.
Keelan is the former Managing Director of Red Sky, one of Irelands leading web development companies for over 10 years now and founded the successful wealth creation website/blog in late 2009, MillionaireMindsetSecrets.com.
Keelan has recently been appointed as the CEO of Horizon Speaker because of his proven ability to develop fledgling businesses into leading and sustainable businesses.
Over the last 3-4 years his thirst for knowledge, insights and adventure resulted in him travelled the globe (including South Africa, India and the United States) to be trained and mentored by some of the best Business, Marketing and Personal Development Experts in the World.
He believes that life-long learning and development through events, training seminars and information products by the worlds-best international experts and speakers is the surest, fastest and most enjoyable way of developing skills,realizing potential, building human capital, building wealth, and enhancing the quality of lives and levels of fulfilment in people This drive and passion led him to becoming the co-owner and CEO of Horizon Speakers in 2011.
About Ian Lawlor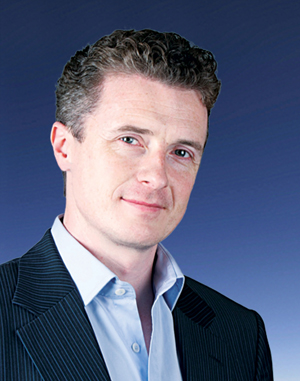 With a background in engineering for Irish and multinational companies, Ian Lawlor ended his role with Intel Corp in 2003 to focus full time on investment interests which include a personal portfolio and managing an investment fund.

Ian's interest in financial education and training resulted in co-founding a public shared learning forum for successful and aspiring investors in 2001 which still continues. This role also led to developing a profile in the national media resulting in being a presenter on Ireland's main TV station RTE 1.

In 2007, Ian co-founded Horizon Speakers & Seminars to promote a great life through continual education and personal development to business owners and professionals. To date Horizon has hosted numerous International speakers and bestselling authors in Ireland, UK and USA.
What People Say...
"I found the workshop with Keelan full of plenty of information for thought.
Excellent presentation!"
- Frances Commins